Meet the Team at Arise Family Chiropractic
Get to Know Us
Dr. Ilean Santos, Chiropractor
Dr. Ilean Santos grew up in Corozal, Puerto Rico, and completed her bachelor's degree cum laude at the University of Puerto Rico, Rio Piedras. At 24, she decided to move to Marietta, GA to pursue her Doctor of Chiropractic degree at Life University, where she graduated cum laude in 2015.
She worked as an associate doctor for four years in the largest chiropractic office south of Atlanta, serving many families. She also worked in Lutz, FL for a year. Even though she and her husband grew up in Puerto Rico, they decided to move to the Alafaya, Waterford Lakes/Orlando area to raise their family here. For Dr. Santos, the community feels like home, since she grew up visiting a lot as a child, and she is passionate about providing family care at our clinic, Arise Family Chiropractic.
I grew up thinking that when I reach a certain age, I am destined to take medications to live better. I grew up thinking that having 'this diagnosis' is part of aging and life. I grew up thinking that masking the symptom with a pill was the final answer to my complaints. I remember as a kid dealing with severe constipation, allergies, and asthma.

Dr. Ilean Santos
For Dr. Santos, her normal was to leave school sick and stay home sick for a couple of weeks. Then she started dealing with severe throat infections, migraines, low back pain, TMJ disorders, numbness on her left hand, PMS, gastritis, and stomach issues.
"Yes, all this before the age of 25!"
She tried it all—the specialists, the CT scans, the therapies, the medications—and Dr. Santos just wondered if there was something else she could do to heal her body, besides taking a pill.
"My life changed when somebody finally talked to me about my body's ability to heal through a healthy nervous system. I not only started chiropractic care, but decided to become a Doctor of Chiropractic.
"I can tell you I've been on both sides. Healing has been a journey, think about 20+ years of stress, toxins, and traumas recorded in my brain and nervous system. I'm a living testimonial that chiropractic works, and it's part of our lifestyle as a family."

Carlos Pérez-Gabriel, Chiropractic Assistant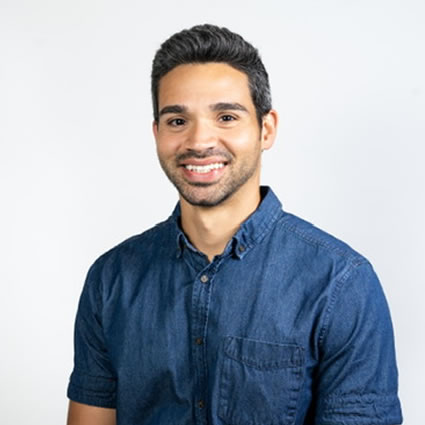 Carlos was born and raised in Toa Baja, Puerto Rico, and has always been passionate about sports, health and active lifestyle. After injuring his back while practicing for a church theater act, Dr. Santos introduced him to chiropractic.
He then sought care in Puerto Rico and healed from that injury. What he did not know was how chiropractic care was more than just for back and knee pain. As a kid, Carlos was diagnosed with attention deficit disorder (ADD), motion sickness, and constantly getting sick. Like many kids today, he struggled to focus in school and was prescribed medications for that.
Fast forward, Carlos has been consistently under chiropractic care for over 8 years, and not only is he healthier now, but he does not have to take medications for focus and attention. Chiropractic care also helped him through training for his first full marathon (26.2 miles), and he was able to finish the race in less than 4 hours—without stopping!
EXPLORE OUR SERVICES

Outside the Office
Carlos is passionate about exercise, and as a personal trainer, he is always learning how to help himself and others reach a healthier lifestyle. When he is not running our clinic, you can find him learning and practicing CrossFit and how to strengthen the body with proper movements.
He also has years of experience as a Chiropractic Assistant and is looking forward to helping our community get healthier.
Schedule Today
Contact us today to book your first appointment.
CONTACT US
---
Meet the Team at Arise Family Chiropractic | (407) 440-0026